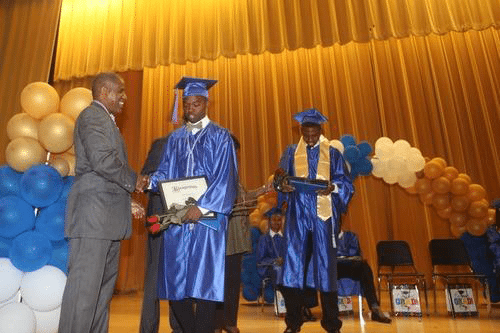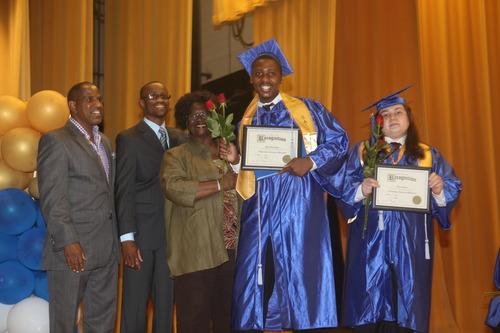 Defiance was the theme on Friday, June 5 at the 2014 Stellar Leadership Academy Graduation. An overjoyed group of students defied profound statistics, going from projected high school dropouts to proud graduates. The group of graduates, comprised of all males – African-American and Hispanic – received an encouraging keynote address from Dr. Steve Gallon III.
Dr. Gallon acknowledged the graduates' efforts in defying naysayers along their difficult educational journey.
"You have been defiant to statistics that placed a disproportionate number of African-American and Hispanic males in Special Education, saw them dropout of high school rather than graduate, and whose life experiences and challenges more often led them to prison rather than college. Continue to defy those that would relegate you to a life of poverty and failure when you have the potential for and deserve prosperity and success," said Dr. Gallon.
As graduates received their diplomas, Dr. Angel Chaisson, the school's principal, presented them with awards and scholarships based on attendance, academics and community service. Dr. Gallon donated $4,000.00 on behalf of Tri-Star Leadership to the school to honor the award and scholarship recipients.
The deserving graduates to receive scholarships were Gary Bradshaw, Zakari Farrington, Kevin Cajina and Norlan Manazanares.
Stellar Leadership Academy Board President, Dannie McMillon, and Board Member Jerry Sutherland were also in attendance to congratulate the graduates. 
Stellar Leadership Academy is a fully accredited public charter school serving at-risk students in grades 9-12 that seek and benefit from a small, structured learning environment that integrates technology into its instructional model. Students enrolled at the school are able to work at their own pace and receive direct instructional support from a group of committed and caring educators. 
Stellar Leadership Academy is located at 7900 Northwest 27th Avenue, suite F-1, Miami, FL 33147.