CONTACT: Pavi'Elle Phillips
305-995-1334
PRESS RELEASE FROM THE OFFICE OF DR. STEVE GALLON III
July 23, 2019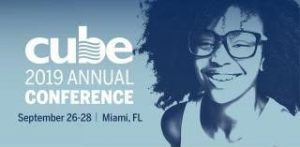 School Board Member and CUBE Vice Chair Dr. Steve Gallon III would like to announce that the CUBE Annual Conference is being held in Miami, Florida on September 26-28, 2019 at the InterContinental Miami. As Vice Chair of the CUBE Steering Committee, Dr. Gallon is thrilled to host the event and showcase M-DCPS as being an A-rated district for the second year in a row. Conference participants will tour and attend site visits to a few of our fine schools that will display our ingenuity, diversity, inclusion, and safety.
The Council of Urban Boards of Education (CUBE) Annual Conference is designed to foster effective school district leadership through practical clinic sessions and peer-led district workshops. CUBE has convened school board members from across the nation for the past 51 years to network and share the continually evolving strategies they are using to address the unique educational challenges that exist in our nation's urban centers.
Join CUBE in Miami, Florida for the premier annual event, curated specifically to give you the tools and support you need to effect change and become an empowered, impactful urban school board member.
To register and for more information, please visit:
###